SignUp For News & Updates
County Executive Bob Cassilly thanks the Harford County Council for voting for his FY24 budget, which:
Prevents tax hikes
Provides pay raises to law enforcement
Fully funded schools according to the State of Maryland recommendations
Supports business growth and development, as well as our agricultural community
Enabled County government to take over the countywide ambulance services, as requested by the Harford Volunteer Fire & EMS Foundation
Reduces the county's structural deficit by 25%
A message from Bob Cassilly
Dear Friend,
My Administration has worked very hard over the past eight months to provide citizens with open, ethical, and effective government.
The behind-the-scenes dealings that were far too prevalent in county government have been replaced by a government that is transparent and treats everyone fairly, without partiality, and competently.
So why has my administration been the target of repeated allegations of improper conduct?
Unfortunately, we live in a world where the politics of personal destruction and headline-grabbing are too often a substitute for good governance.
In the past seven months, my Administration and I have taken a number of actions, including some noted below, that have made me the target of extensive personal attacks:
I championed a

successful moratorium on mega warehouse projects

that were pushed through by my predecessor. That moratorium was opposed by Councilman Aaron Penman.
I reversed the prior administration's support for a deforestation plan that resulted in

improper clearcutting of well-established forest buffers

that would have shielded existing neighborhoods from a major warehouse project. That reversal drew intense condemnation from Councilman Penman's campaign manager who accused me of unethical conduct.
I introduced a bill to

stop the ongoing sprawl

of high-density housing into the rural areas of the county, including the planned apartment complex in Fallston. That effort was defeated when two council members, including Councilman Penman, bowed to powerful developer interests and abstained from the vote.
I refused demands to immediately fund a new police precinct and training academy where those plans had not been subject to a thorough review of funding availability or location suitability. Those plans were approved by the outgoing County Executive, Barry Glassman, on his way out the door.

However, Mr. Glassman did not see fit to incur the immense costs of these projects during the eight years of that administration.

My delay of those projects has made me the target of many months of personal attacks by Councilman Penman and Sheriff Gahler.
I submitted a fiscally responsible budget and stood my ground against an intense campaign of personal destruction by the

teachers' union, Councilman Penman, and Sheriff Gahler.

After my Administration identified funds that we proposed to use to cover expanded emergency service operations, we were attacked by Councilman Penman, who alleged misappropriation of those funds, a

charge that was refuted by the County Council's own auditor but is still being repeated by Councilman Penman.
Other actions taken that could result in more personal attacks include:
My administration issued stop-work orders on two major development projects that were not in compliance with environmental regulations.
And we issued record fines on a developer for violation of stormwater management regulations and the resulting pollution of local streams.
I will not be bullied or threatened into action. Good governance arises from integrity and competence, not capitulation or self-promotion.
I appreciate your support as I continue to lead, unflinching and undeterred by false and misleading attacks, Harford County into a new era of ethical, transparent, and good government.
Bob
Integrity | Leadership | Experience
Bob Cassilly has the leadership and integrity to bridge our traditional values and our progress for the future.
Growing up, Bob worked summers on farms throughout the county, canoed Deer Creek, played football at Bel Air High, and then married a high school classmate. A Bronze medal-winning veteran of the Iraq war and father of five children raised and educated locally, Bob has demonstrated his commitment to our community through his service as mayor of Bel Air, County Councilman, as a State Senator, and now as Harford County Executive.
The Cassilly family has been an active part of Harford County for more than 200 years. Bob wants to ensure that we can maintain the high quality we all love about our county so that all of our citizens have the opportunity to raise their families, work, and even retire in beautiful Harford County. Bob's conservative Republican principles will create more opportunities for all while preserving the character of the county's heritage. His priorities include:
keeping taxes low,
eliminating wasteful government spending,
ensuring the safety of our families and communities,
maintaining high-quality schools,
retaining and recruiting quality jobs,
and preserving open space and our agricultural heritage

.
Maryland Fraternal Order of Police
Harford Co. Municiple Lodge #128 of FOP
Fmr Gov. Bob & Kendel Ehrlich
Del. Kathy Szeliga & more....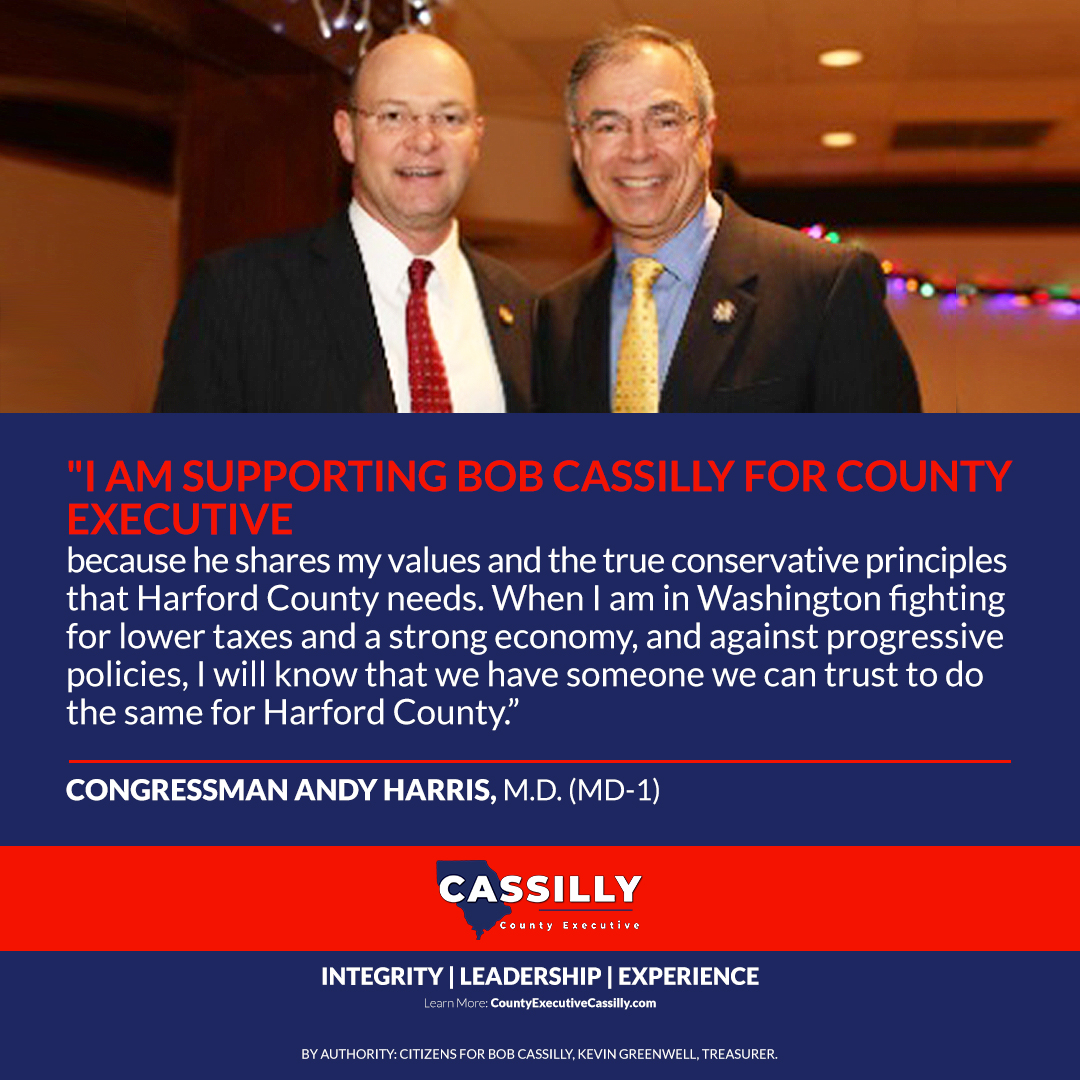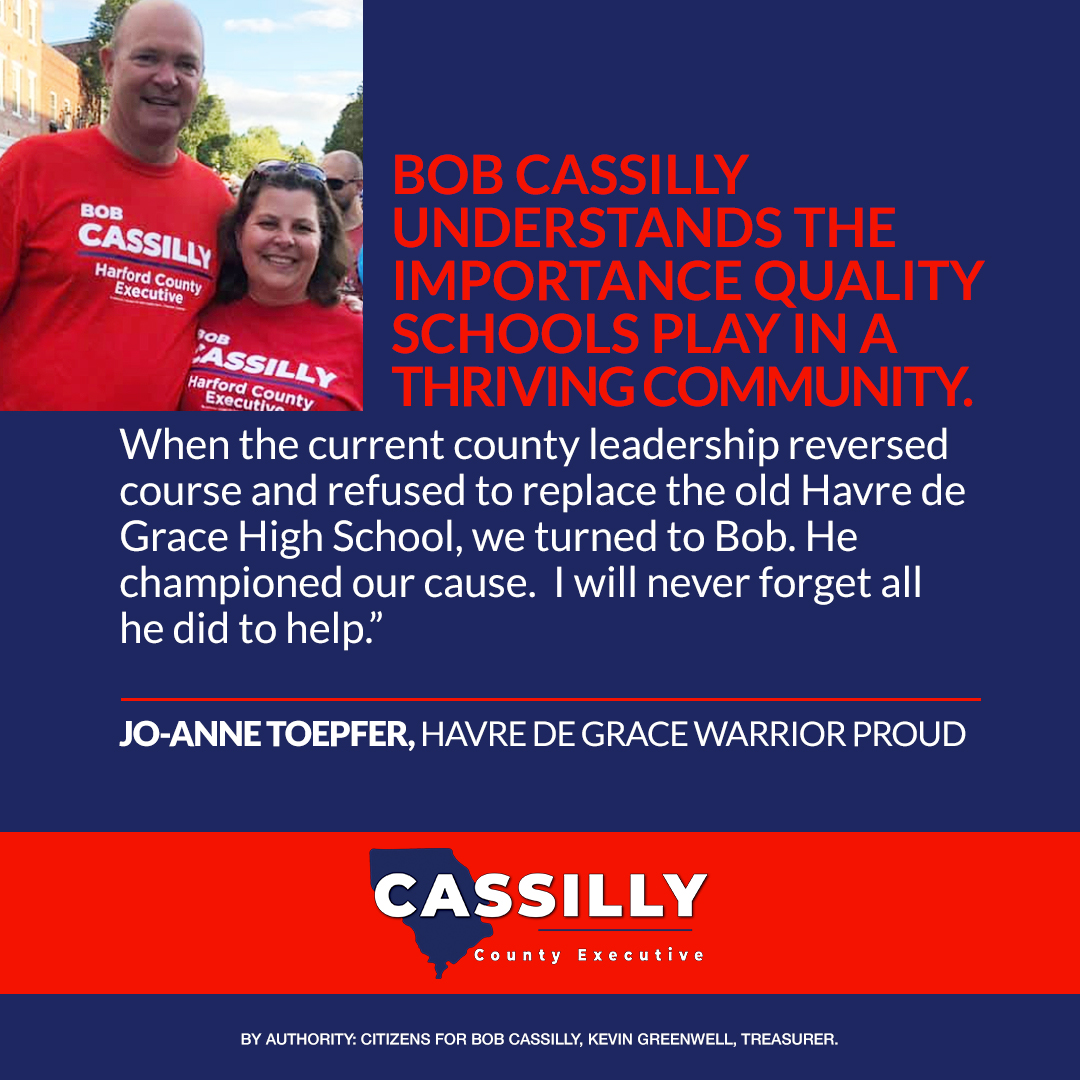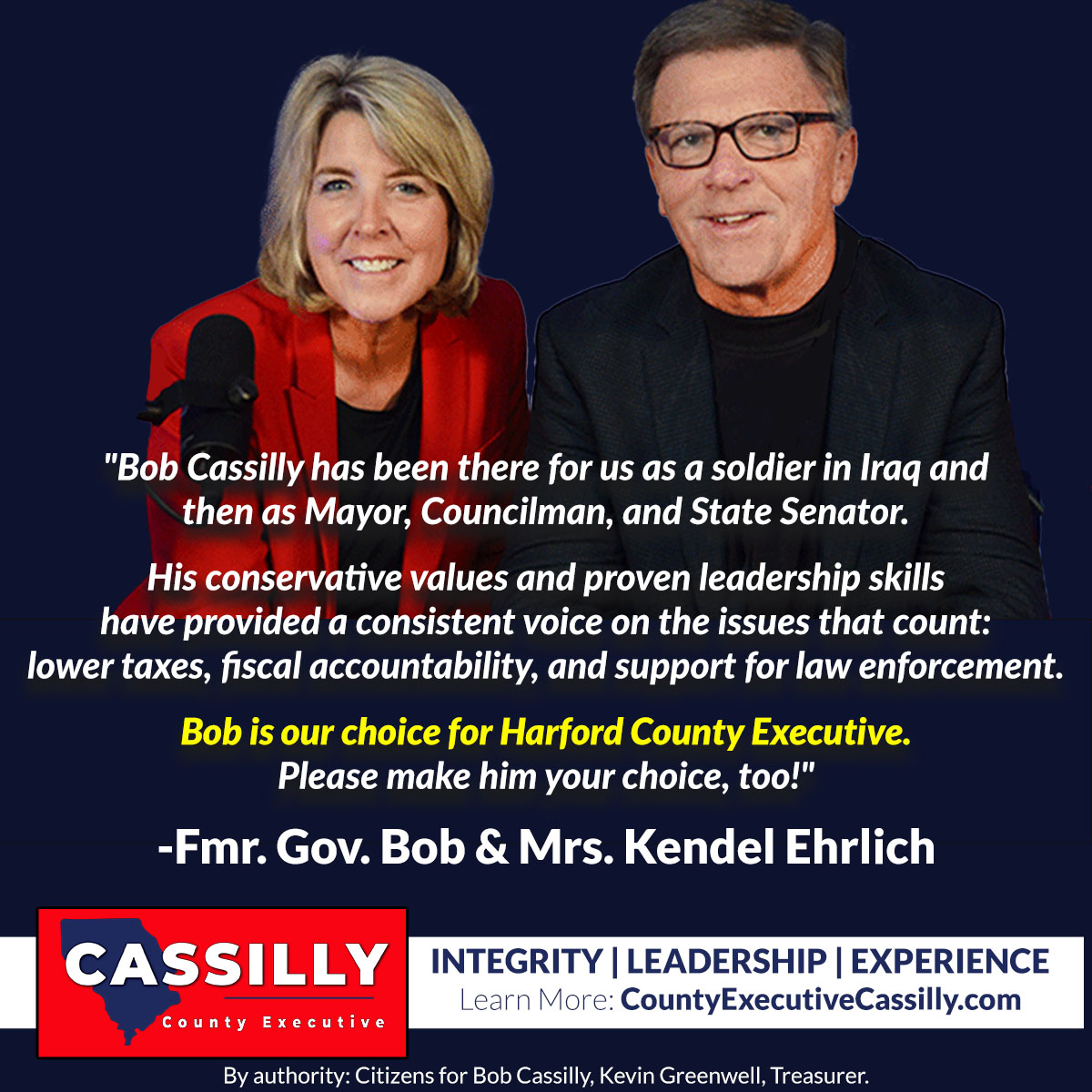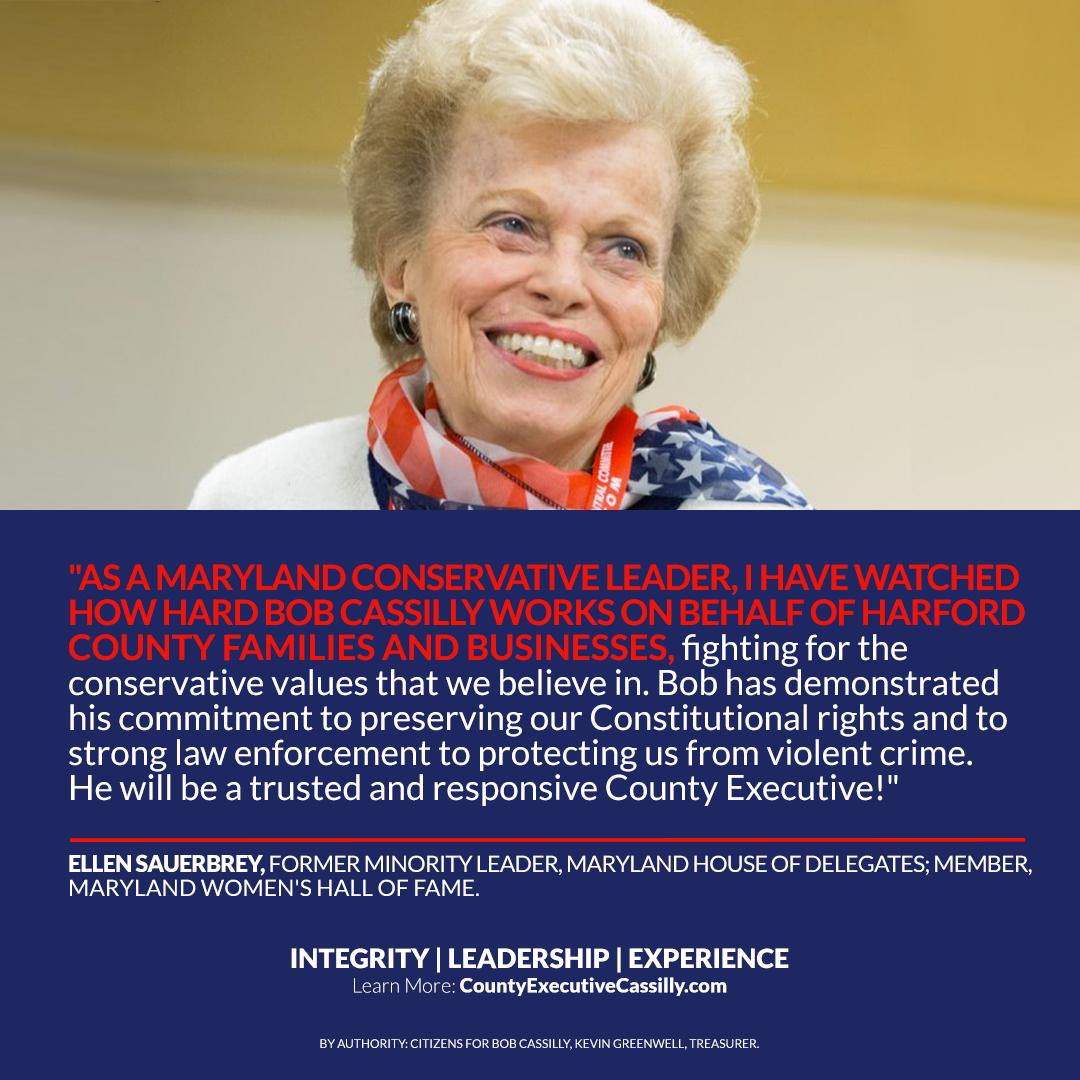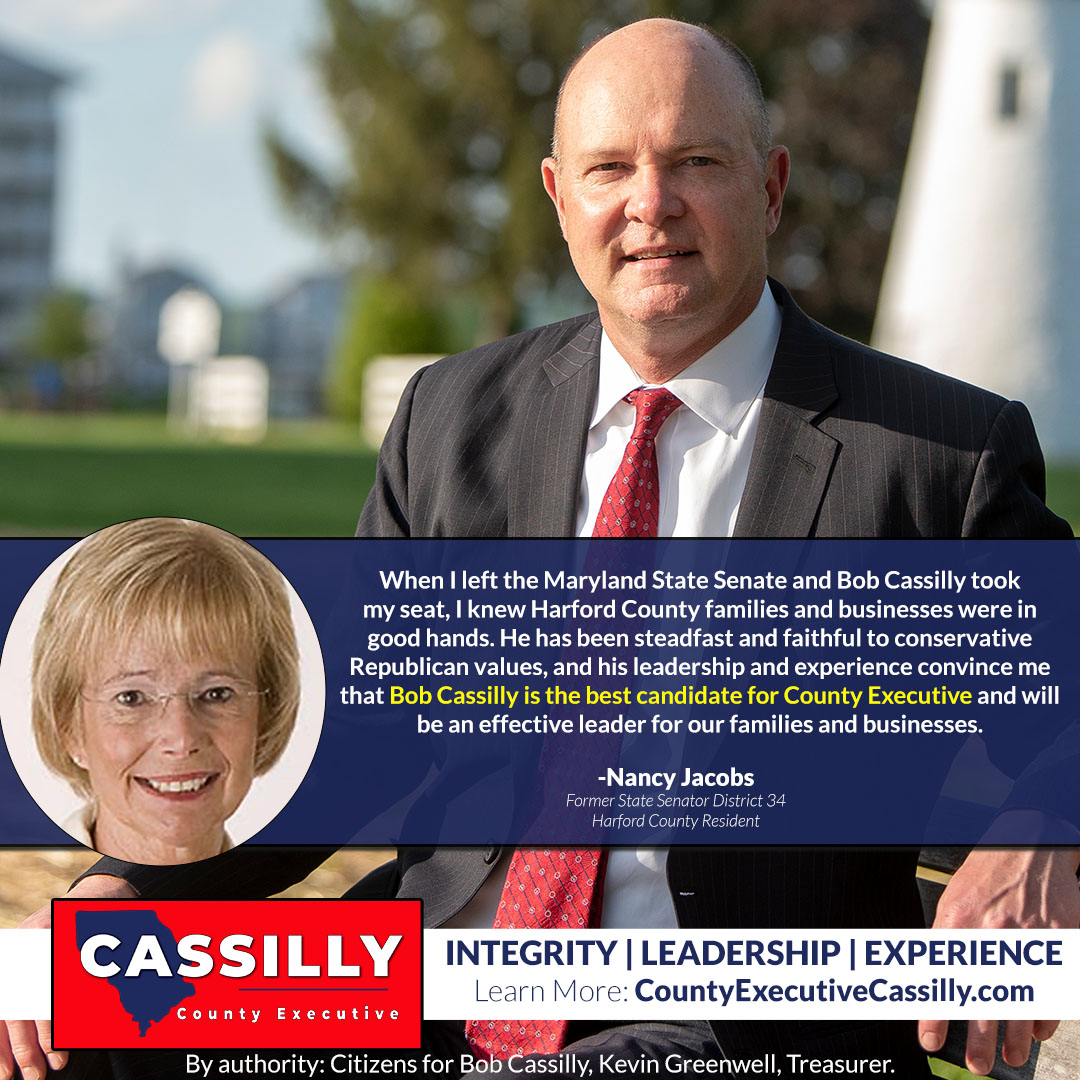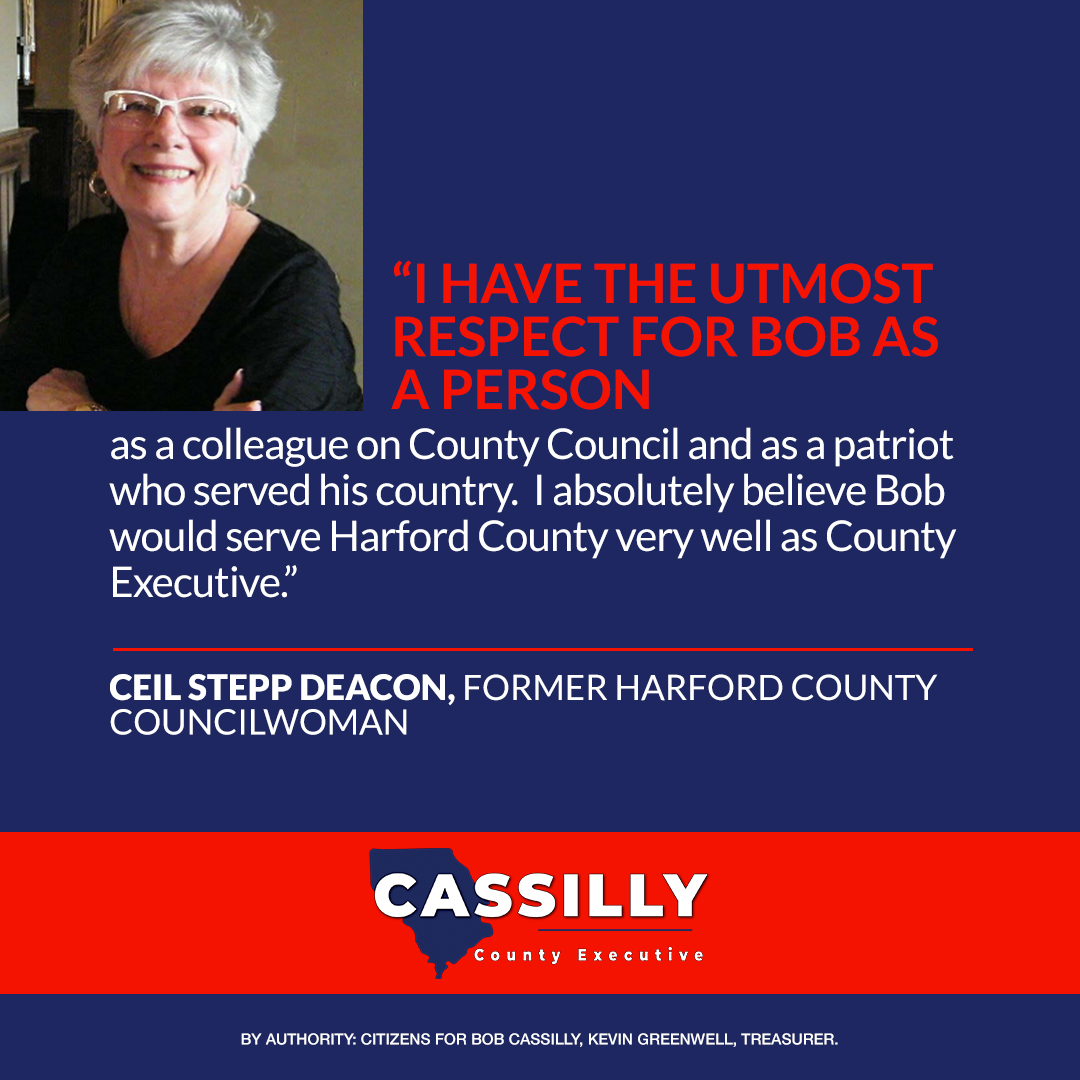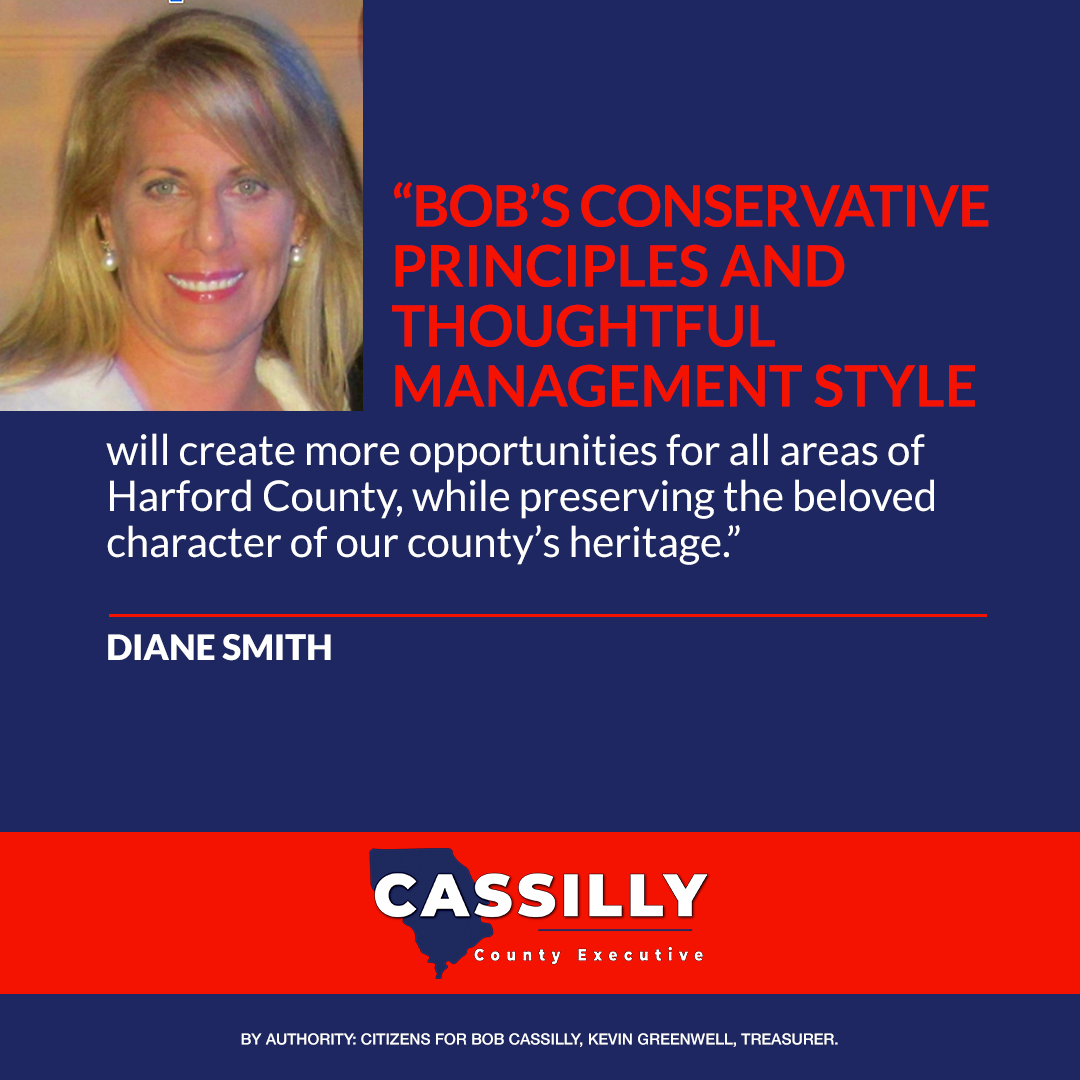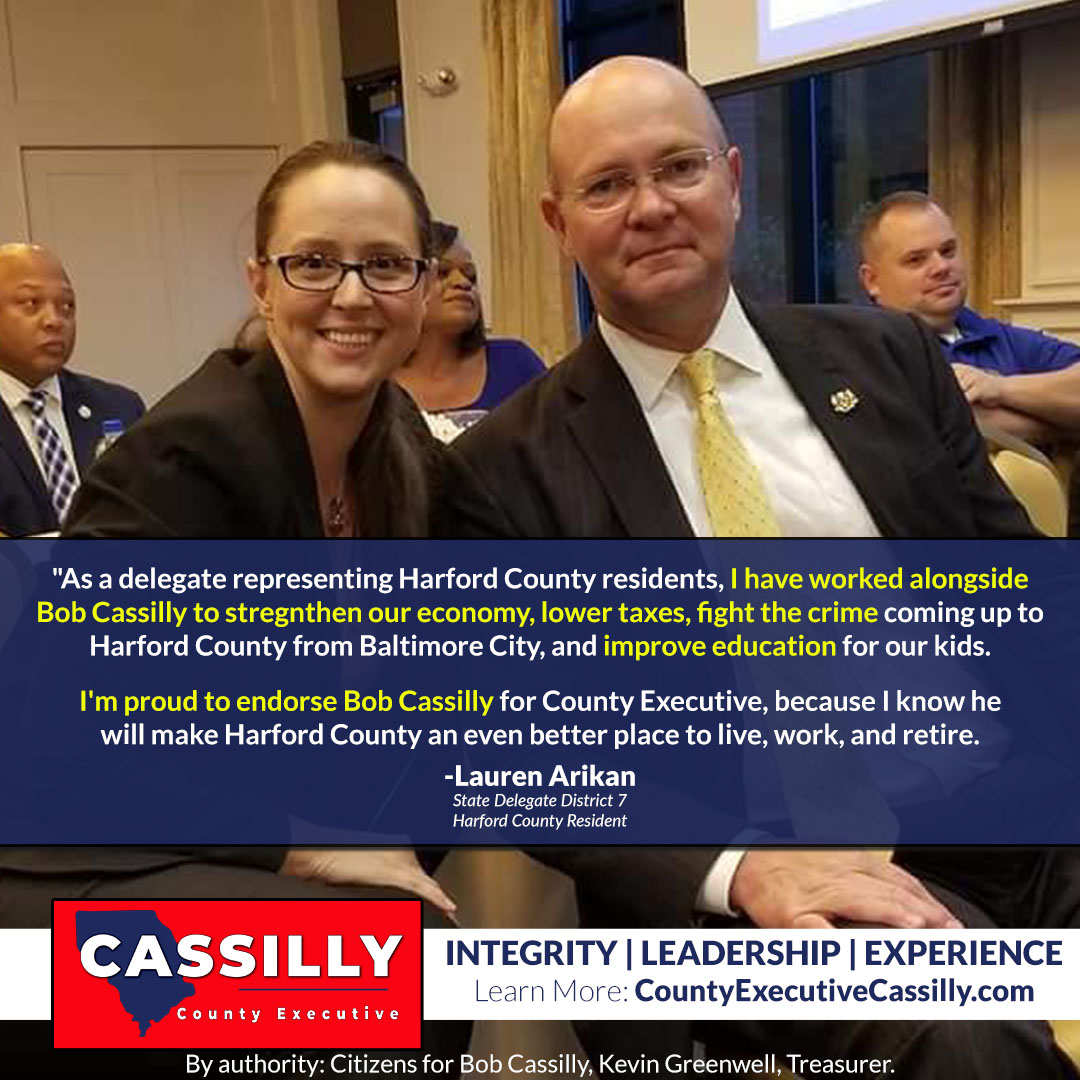 Integrity
Awarded the Bronze Star for Service in Iraq
Awarded the U.S. State Department Superior Honor Award
Graduated from Johns Hopkins University & ROTC Distinguished Military Graduate
University of Baltimore Law School, with honors
Leadership
Maryland State Senator
Ranking Republican on the Senate Judicial Proceedings Committee
Chairman, Harford Senate Delegation
Former Bel Air Mayor and Commissioner
Former Infantry and JAG officer, U.S. Army
Senior Strategic Planner in U.S. Embassy, Baghdad
Experience
Lifelong Harford County resident
Former Harford County Councilman
Practices law in Federal and State Courts throughout Maryland
Small business owner
Graduate of Johns Hopkins University
Bob & Deb have been married for 40 years and have five children and eight grandchildren, most of whom have or will attend Harford County public schools.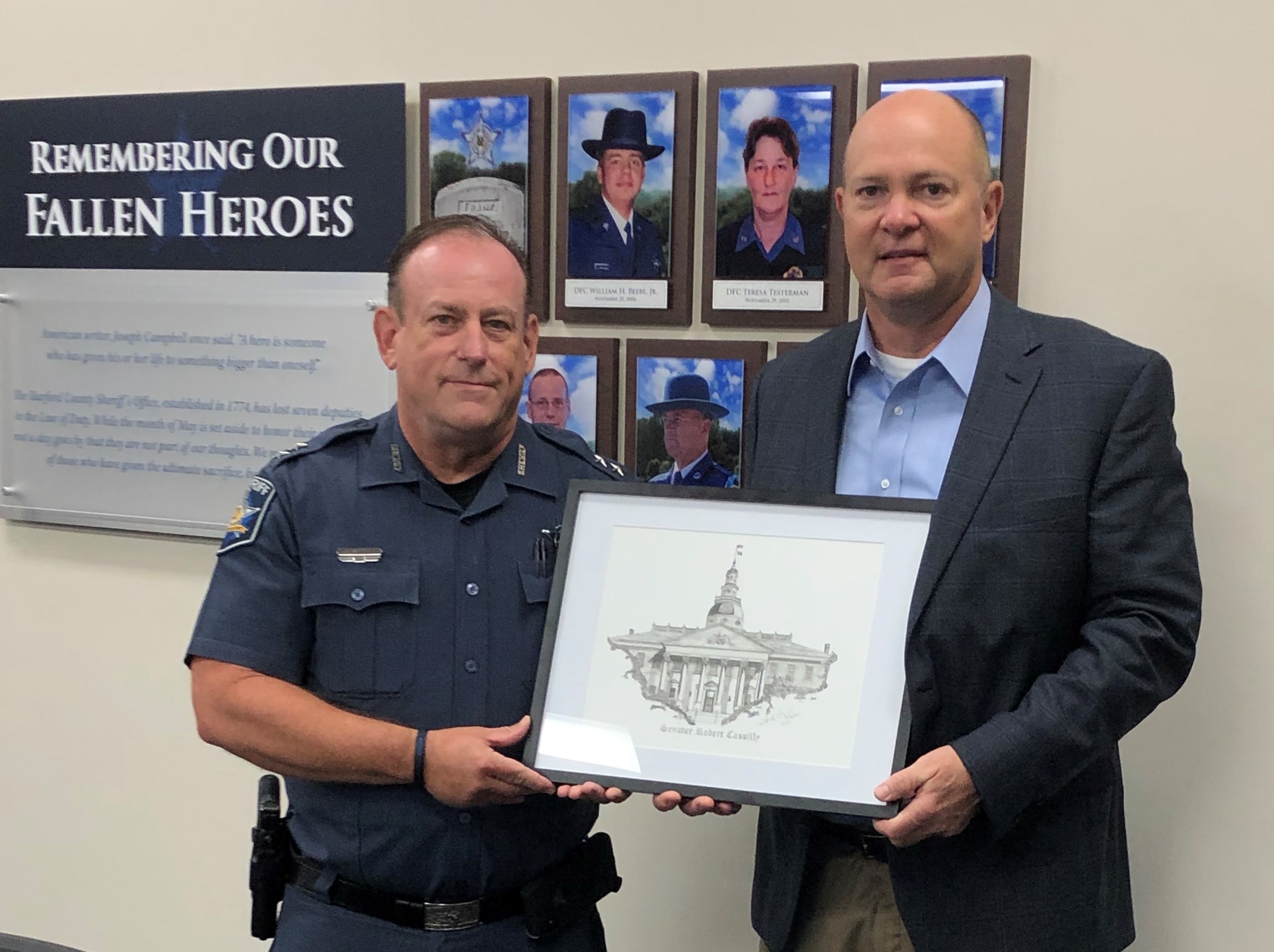 Sheriff, Harford County
"Senator Bob Cassilly is the statewide leader in the fight to support our deputies and police officers and preserve law and order to keep our families safe."
Bronze Star Recipient
An ROTC distinguished military graduate, Senator Bob Cassilly served five years in the active military as an Infantry officer, was awarded the coveted Ranger Tab, and continued his military service in the Army Reserves as a JAG and Civil Affairs officer.
Education
As County Exec., Bob Cassilly will work to make Harford Co. schools number 1 in the State. That means supporting parents and teachers, as well as ensuring classroom safety to keep our kids safe. 
Defend Open Spaces
As County Exec., Bob Cassilly will defend Harford Co. against reckless development and will support agricultural preservation. 
Bronze Star Recipient
Bob Cassilly served in the U.S. Army and earned a Bronze Star during his deployment in Iraq. As County Executive, Bob will make support for our veteran's community a top priority. 
Safe Communities
Bob Cassilly supports law enforcement 100% and led the fight in the State Senate to defend police against liberal reforms that would harm public safety in Harford County.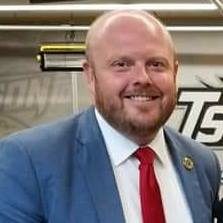 Endorse Bob Cassilly
Add your name to the growing list of supporters lining up behind Sen. Bob Cassilly Harford County Executive!